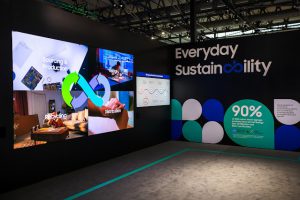 Introducing New 2023 Outdoor Signage – Large LED Screens and Small-Sized Displays Unveiled
Samsung is announcing new signage products at ISE 2023. Firstly, the company will release its 2023 outdoor LED signage (Model Name: XHB series), built for the sports industry and spectacular landmark locations.
The XHB series is available in four models: P6 (6mm pixel pitch), P8, P10 and P16, all of which produce light at an astonishing peak brightness of 8,000 nits exceptionally clear and stunning picture quality – even when in direct sunlight. Furthermore, the standardized module design of the XHB guarantees flexible design and installation, including Concave (maximum of 2500R curvature), Convex, S shape, Fascia, and 90 °L type.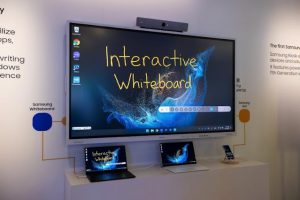 With a design twice as thin as the previous model, the XHB series can be installed in a seamless way, with the installation time also reduced by more than half for improved convenience. Furthermore, improved energy efficiency means the XHB reduces power consumption by over 15% compared to its predecessor and can reduce approximately 2,492 tons of CO2 emissions every year, which is equivalent to the amount of CO2 sequestered by about 290,000 30 year old pine trees in one year .
The XHB series will be available for ordering starting from ISE 2023, with some of the first models already being installed as electronic scoreboards at the home stadiums of globally recognized US Baseball teams, the New York Mets and The World Champion Houston Astros ahead of the 2023 season.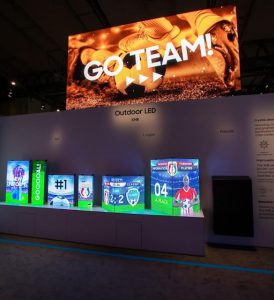 Finally, Samsung is introducing a small-sized, 24-inch outdoor signage display (Model Name: OH24B) to cater to the electric vehicle (EV) charger market. As demand for EVs continues to rise, it is important to provide solutions that enable a more connected, enjoyable charging experience, while providing upselling opportunities for businesses and retailers.
The outdoor signage excels in both durability and outdoor visibility across a wide range of diverse conditions. This high resilience and versatility are provided by peak brightness of 1,500 nits, and a slim, metal design, as well as water, dust and liquid resistance (IP66, Ingress Protection), and IK-10 Level glass protection. A high temperature, rigid liquid crystal panel is also applied to provide further durability even under strong sunlight. In addition, the display offers removable Wi-Fi/Bluetooth accessories which can optimize the receiving rate based on installation conditions. Finally, the small signage boasts unparalleled energy efficiency with the industry's lowest power consumption (a maximum of 90W) above 20-inches, perfect for an EV charging station which requires 24/7 operation and information delivery.
New Kiosk and Flip Pro's Exclusive Solution Deliver Enhanced Device Compatibility
Samsung is also announcing the latest model, 'Samsung Kiosk' Windows version (Model Name: KMC-W). In addition to the existing model operating Tizen (OS), 'Samsung Kiosk' Windows version is compatible with Windows 10 IoT Enterprise OS to expand customer choices.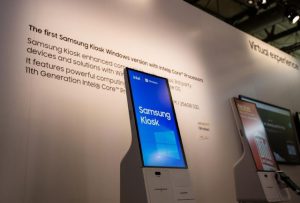 This new Kiosk adopts Intel's 11th generation Intel Core Processor. It is equipped with 8GB DRAM and 256GB SSD, providing fast processing and ample storage space to meet the fast-evolving industry demands beyond healthcare, hospitality, and retail.
The company will introduce a new solution, exclusive for the 'Samsung Flip,' meeting the demand of both educators and businesses to be connected to various devices simultaneously. It enables users to bring the content or applications in their PC to the Flip by connecting a PC with the Flip. Especially, users can write over content brought from their PC on the screen of Flip and share in real-time. The new solution enhances usability for remote work and provides a seamless work environment by allowing users to optimize and utilize the screen to connect with other device screens.
For more information about Samsung's impactful SMART signage and solutions, please visit https://displaysolutions.samsung.com/ise2023.