Every year at Galaxy Unpacked, Samsung Electronics unveils a new era of mobile innovation — and this year was no exception. Together in person for the first time in three years, Samsung unveiled at its latest Unpacked event in San Francisco its exciting new range of additions to the Galaxy family — including the Galaxy S23 series, the Galaxy Book3 series and an inspiring vision for sustainability.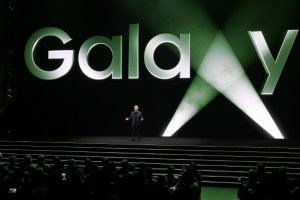 With its latest lineup of devices, Samsung is creating premium and powerful mobile experiences for all. Building on its long history of open, proven and trusted collaboration, Samsung also showcased how it is using technology to transform the future of human connection.
"More than ever, people turn to brands they trust for the tools on which they can depend to navigate our rapidly-changing world," said TM Roh, President and Head of Mobile eXperience Business at Samsung Electronics. "At Samsung, this demand for trusted performance pushes us to deliver more meaningful innovations — beyond the specs. It pushes us to create devices that are truly the best and be a brand you can be proud of. We created these devices to set the new premium standard for innovation to deliver powerful performance – without compromise. For every consumer and for the planet we share."
From top Samsung executives exhibiting the latest products to packed crowds and event visitors getting hands-on with the latest innovations, everyone took part in this celebration of everything Samsung. Keep reading to see more photos, highlights and reveals from Galaxy Unpacked 2023.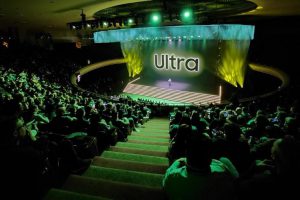 Many visitors attended Galaxy Unpacked 2023, which took place in San Francisco at the Masonic Auditorium.
Lights, Camera, Action: Galaxy S23 Series Cameras
The recently unveiled Galaxy S23 series made a serious impact on visitors with its beautiful design and vertically aligned rear camera lenses. Not only has Samsung improved the unified camera design, but also significantly updated Galaxy S23 Ultra's camera capabilities. These improvements were highlighted through videos filmed #withGalaxy, which debuted at this year's Unpacked event.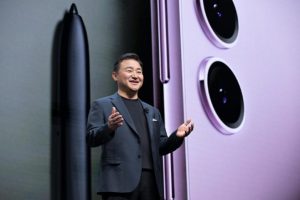 TM Roh introduced the new Galaxy S23 series, the best Galaxy S series yet.
The event featured an electrifying short film captured by an award-winning film director Ridley Scott entirely with the Galaxy S23 Ultra — Samsung's most incredible camera yet. The short film showed off the device's superior camera capabilities, revealing that anyone can produce an epic film with videos filmed from their everyday lives.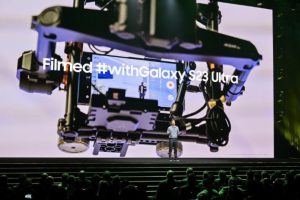 Vice President of Mobile Product Management Drew Blackard introduced the Galaxy S23 Ultra, revealing that all videos shown during the presentation were filmed with the Galaxy S23 Ultra.
With the Galaxy S23 Ultra's range of advanced camera features, anyone can easily produce pro-grade content anytime, anywhere.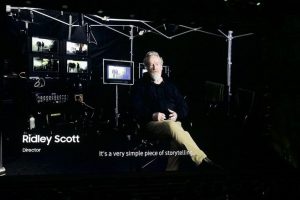 All of the footage in Ridley Scott's short film "Behold" was filmed with the Galaxy S23 Ultra.
Capture the Moment: Galaxy S23 Ultra's High-Resolution Camera That Is Out of This World
Galaxy S23 Ultra's new 200MP Wide Camera captures high-resolution photos with a level of large-scale color and detail never before seen in a smartphone. What's more, various pro-level features in the Expert RAW empower users to produce creative and cinematic films with ease.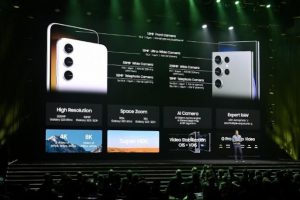 The new Galaxy S23 series combines design, performance and technology innovation in its high-resolution front and back camera, improving the user's camera experience.
Jaclyn Wyatt, Head of Social Media & Commerce at Samsung, explained that the wide-angle camera of the Galaxy S23 Ultra boasts ultra-high resolution. She also introduced the improved Adaptive Pixel and the Camera Assistant app, complete with new features that help users take photos efficiently.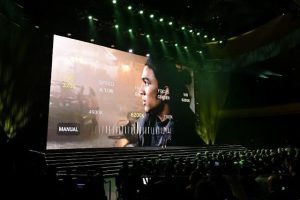 Expert RAW gives users more control over all aspects of the photography experience, including ISO, aperture and white balance from start to finish.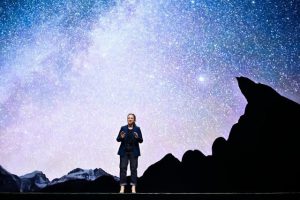 Astrophotography captures the night sky in stunning detail using only a smartphone.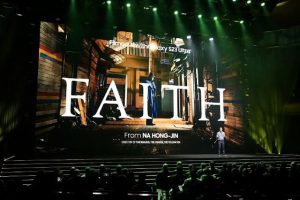 Na Hong-jin's short film "Faith" demonstrates the cinema-quality camera features of the Galaxy S23 Ultra. The director was satisfied with the smartphone camera's ability to capture high detail, even in dark settings.
Shoot After Sundown: Nightography
Shooting in low light can be challenging for even the most advanced filmmakers, resulting in shaky, unusable footage with lots of noise. At Galaxy Unpacked, Samsung announced a multi-frame processing solution for the Galaxy S23 series camera to overcome this challenge. This dedicated algorithm combines multiple images across frames to reduce noise, letting anyone take vivid and optimized videos, even in the dark. Also, an enhanced AI object-aware engine and stereo depth map allow the camera to capture clear portraits in great detail, making night photos come to life. What's more, with the enhanced Nightography and front camera, Galaxy S23 series users will be constantly asked to share their group photos and videos with friends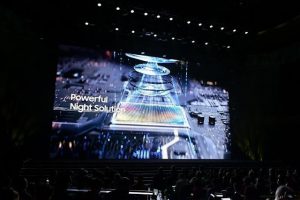 Yoonie Park of Brand Marketing introduced Nightography and explained that the camera's multiframe processing technology is able to reduce noise effectively.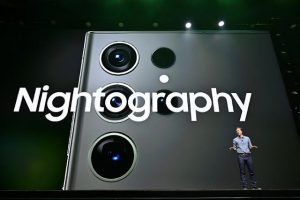 A captivated audience listens to the explanation of the groundbreaking Galaxy S23 series' Nightography feature.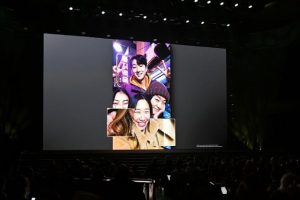 AI Stereo Depth Map, based on Dual Pixel technology, is able to detect individual objects. It can even separate a person's glasses from the background of a photo, so portrait details are crisp and clear.
Level Up Your Gaming Experience With Galaxy S23 Series
The Galaxy S23 series has gotten a serious upgrade all across the board, from its enhanced 5000 mAh battery and its improved cooling system to its next-level camera performance and 41% faster GPU. The newly designed, 8-core CPU boosts the processing capabilities of the Galaxy S23 series by about 34%, which is ideal for multitasking. The optimized NPU architecture also uses an AI algorithm for an additional 49% boost, helping users capture stunning photos in low light.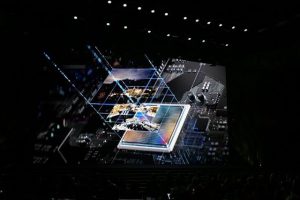 Product Specialist David Thompson introduced the enhanced Galaxy S23 series' CPU and NPU, which make photos, videos and graphics truly epic. The improved performance and processing speed provides a powerful gaming experience. David further explained that the users can enjoy the game longer with improved battery life.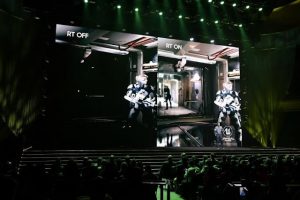 Drew Blakard continued the presentation by demonstrating how in-game lighting, reflections and shadows are even more realistic with Samsung's GPU-enabled Ray tracing module.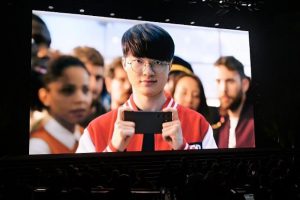 Influencer Lee 'Faker' Sang-hyeok tests out Samsung's latest games.
New in Galaxy Unpacked 2023: Galaxy Book3 Ultra, Powerful Performance Anytime, Anywhere
After announcing the release of the Galaxy S23 series, visitors were excited to see what other new releases were on the horizon. In particular, visitors were amazed by the announcement of the Galaxy Book3 series and especially the Galaxy Book3 Ultra, a whole new addition to the Galaxy Book lineup.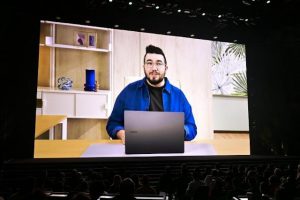 Ryan Baber of Retail Marketing introduced the latest Galaxy Book3 lineup, which provides the users with an enhanced multi-device experience.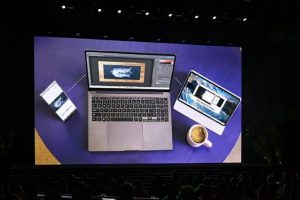 The audience watches the Galaxy Book3 series' multi-device experience video.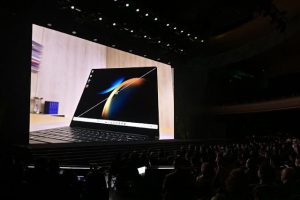 Through Galaxy Book3 Ultra, Samsung is introducing the Dynamic AMOLED 2X Display to users for the first time. This groundbreaking laptop is equipped with the latest CPU and GPU from Intel and NVIDIA, perfect not only for everyday users but also gamers and creators.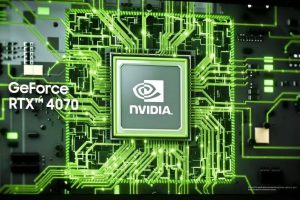 The Galaxy Book3 Ultra features a crisp 3K display that makes colors and details pop. With the Ultra's powerful H-series CPU that can support up to 45W for high performance and upgraded NVIDIA® GeForce RTX™ 4070 Laptop GPU, the Galaxy Book3 Ultra can help bring any user's imagination to life.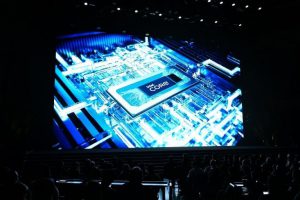 Through powerful performance and connectivity, visitors could take a peek at how the Galaxy ecosystem would improve their daily lives.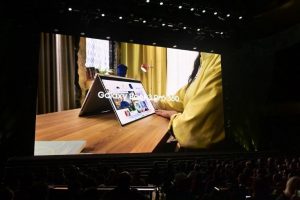 The Galaxy Book3 360 comes equipped with a touch screen and S Pen capabilities, letting users create in more ways.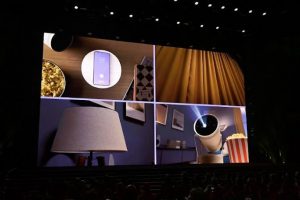 SmartThings connects a user's mobile devices and home appliances in one convenient place.
Everyday Sustainability: Shaping a Brighter Future Through Technology
From 100% recycled paper package boxes to various external and internal parts made of recycled glass, plastic and aluminum, Samsung broadened the use of eco-conscious materials in its devices, furthering its sustainability efforts.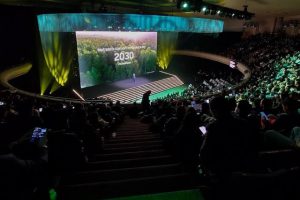 Mark Newton of Corporate Sustainability at Samsung explained that Samsung aims to achieve net zero carbon emissions by 2050 and by 2030 for the Mobile Experience Business.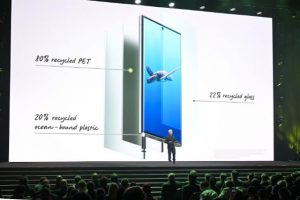 The Galaxy S23 series has incorporated the most recycled materials to date. The number of internal and external parts using recycled aluminum, PET, glass and ocean-bound plastic has been increased to 12.
Shaping the Future of Communication Through Industry-Leading Collaboration
Samsung has a long history of partnering up to push the boundaries of what's possible to deliver leading and premium experiences. During the partnership announcement section of Galaxy Unpacked 2023, President and CEO of Qualcomm Cristiano Amon first took to the stage, revealing that the Galaxy S23 series is powered by the world's fastest and most power-efficient Snapdragon® yet.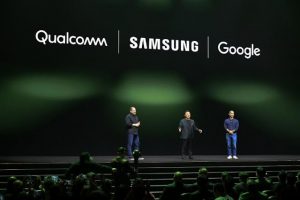 TM Roh explained Samsung's plan to create next-generation XR experience through open collaboration and open innovation.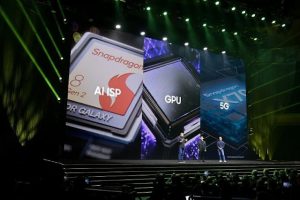 Cristiano Amon, President and CEO of Qualcomm, details past and future collaborations with Samsung.
"The Snapdragon® 8 Gen 2 Mobile Platform for Galaxy features leading system-processing performance as well as groundbreaking AI that enables truly extraordinary experiences," said Cristiano. "This includes AI-powered Cognitive ISP, which enhances photos and videos in real-time for professional-quality camera experiences, even in dark settings." Cristiano also emphasized that Qualcomm's latest Adreno GPU provides ultra-realistic graphics and delivers the ultimate in connectivity with the world's best and most reliable 5G modem RF System, as well as industry-leading Wi-Fi and Bluetooth.
Finally, Cristiano explained that the company aimed to create a new era of highly immersive XR experiences that blur the lines between the physical and digital worlds.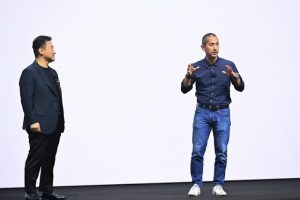 Hiroshi Lockheimer, SVP of Platforms and Ecosystems at Google, outlines his company's vision for the future of technology with Samsung.
Hiroshi Lockheimer, Google's SVP in charge of Platforms and Ecosystem, highlighted the importance of partnership, citing the rollout of the Rich Communication Services (RCS) Messaging Standard and Wear OS, both of which were close collaborations with Samsung. Moving forward, Hiroshi explained how Google would also be investing in groundbreaking XR technologies that will change the way we interact.
"An exciting space where Google has been investing in for a long time across both experiences and technology is AR and VR," said Hiroshi. "These technologies are integral to the new phase of computing as it can change the way we interact with people and information to get things done in the real world."
With a vision to enable a new generation of computing, Samsung, Google and Qualcomm will team up to develop advanced hardware and software to make this immersive technology a reality.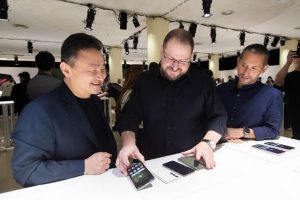 Samsung, Google and Qualcomm top executives explore Galaxy's latest innovations inside the Masonic Auditorium after the Galaxy Unpacked 2023 presentation.
Relive the Excitement: Unpacked 2023 Full Video Replay
That's a wrap! If you couldn't tune in to the full event, take a look at the video below for a full replay of this February Unpacked 2023 showcase. Stay tuned to Newsroom's complete coverage of the event to learn more.
[https://youtu.be/gUM2wYKdxDA]