Samsung never disappoints us with its phones and electronics. And this year, Samsung returns and brings you their flagship – Samsung Galaxy S23 with a better camera phone, built-in quality, and also larger sensor, and excellent image and also video quality.
And as usual, Samsung had released their S Series bringing you the Samsung Galaxy S23, Samsung Galaxy S23+, and the Samsung Galaxy S23 Ultra. With the release of their Samsung  Galaxy S23 Ultra, it is indeed the Samsung Note series-inspired phone that they had added in the secreted SPen which is famed for its drawing, note taking, and annotations on the go. As we bid goodbye to the Note Series, the Samsung Galaxy S23 Ultra is the flagship phone that is definitely a must to have. This time around, we get on hold on the Galaxy S23 Ultra, and here is our first impression of the phone itself.
DESIGN & DISPLAY
Comparison-wise with the Samsung Galaxy S22 Ultra, the Samsung Galaxy S23 Ultra looks and feels like its predecessor but the new model comes with slightly flatter sides which make is easier to hold and the overall design is the same.  The Samsung Galaxy S23 Ultra measures 78.1×163.4×8.9mm compared to 77.9×163.3×8.9mm for the Galaxy S22 Ultra. And here, it comes with the big 6.8-inch AMOLED display with a 120Hz adaptive refresh rate and a 3,088 x 1,440 resolution. They are pretty awesome and completed with dazzling colors and brightness which brings you the stunning 1,750 nits. The display comes with a nice combo which is the combination of the Gorilla Glass Victus 2 and Samsung's durable Armor Aluminum. The phone carries an IP68 rating and is still constructed with an aluminum body.
PERFORMANCE
The Samsung Galaxy  S23 Ultra is one of the first phones to feature the Snapdragon 8 Gen 2 Chip. This is the latest hardware from Qualcomm that's powering a number of flagship devices, but this is specially designed for Samsung, with a faster clock speed and boosted GPU performance. With this, you can enjoy the silky smooth performance and a premium play experience without facing any heat issues.  The phone comes with the option of 256G|12G , 512G|12G, and 1T|12G
Camera
The Camera nevertheless is something that attracted me personally. And this time, Samsung made huge improvements to its camera which we fell in love the first sight. And this time, the Samsung Galaxy  S23 Ultra comes with its own ISOCELLHP  200-megapixel camera. And it is joined with their 12 MP wide-angle camera plus a pair of 10MP telephoto cameras for a 3x and 10x optical zoom. The camera is also equipped with optical image stabilization (OIS) and laser autofocus, plus a Super Resolution Zoom with recommended levels of 30x and 100x digital zoom.
SPen Stylus
It is definitely complete with the SPen. The Samsung Note-like design comes with a built-in stylus is right back on the bottom edge, complete with a familiar set of features.
The pen is perfect at any time for creating notes, writing on screenshots or photos, making AR Doodle, and many more. And there is the tiny internal battery powering the Bluetooth is charged while it's docked. Though the pen is thin and relatively short, so far I love it so much as it is on the go when I need to do some writing or scribbling. We completely sold with this feature in the Samsung Galaxy  S23 Ultra!
Battery
The Samsung Galaxy  S23 Ultra battery is a 5,000mAh unit with 45W wired fast charging support. The Galaxy S23 Ultra does not come with a charger in the box but does come with a USB Type-C-to-Type-C cable. It is also able to get 15 W Wireless charging with the 4.5 W Reverse Wireless Power Share that allows it to charge other devices.
COLOURS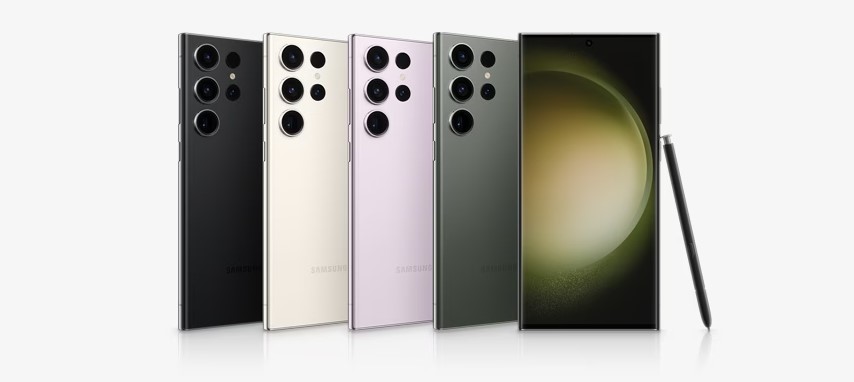 The Samsung Galaxy  S23 Ultra comes in 4 selections of colors which are Lavender, Cream, Phantom Black, or Green hues, while Samsung reserves the Graphite, Sky Blue, Lime, or Red hues for direct sales only through its local Web site.
What's in the box
The Samsung Galaxy S23 Ultra ships with just a Type-C to Type-C data cable in the box along with some documentation and a SIM card ejector tool. They are priced from RM 5,699 with 4 colors for selection; Phantom Black, Cream, Green, and Lavender. Currently, Samsung is running a pre-order promotion (Pre-Order purchase between 2 – 23 Feb 2023) for all buyers who ordered their Galaxy S23 Ultra on Samsung's official website at
https://www.samsung.com/my/smartphones/galaxy-s23-ultra/buy/
would be able to enjoy a complimentary storage upgrade worth up to RM500. Plus, get RM 400 e-Voucherto to spend on
https://www.Samsung.com/my
and also up to 30% off for PWP eco-promotions.