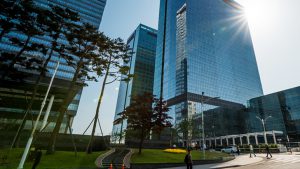 Samsung Electronics recently reported financial results for the fourth quarter and the fiscal year 2022.
The Company posted KRW 70.46 trillion in consolidated revenue and KRW 4.31 trillion in operating profit in the quarter ended December 31, 2022. For the full year, it reported 302.23 trillion in annual revenue, a record high, and KRW 43.38 trillion in operating profit.
The business environment deteriorated significantly in the fourth quarter due to weak demand amid a global economic slowdown. Earnings at the Memory Business decreased sharply as prices fell and customers continued to adjust inventory. The System LSI Business also saw a decline in earnings as sales of key products were weighed down by inventory adjustments in the industry. The Foundry Business posted a new record for quarterly revenue, while profit increased year-on-year on the back of advanced node capacity expansion as well as customer base and application area diversification.
Samsung Display Corporation (SDC) saw earnings in the mobile panel business decline as smartphone demand fell, while the large panel business narrowed its losses as sales of QD-OLED for TVs increased and as the business's LCD inventory was fully depleted.
Revenue and profit at the Mobile eXperience (MX) Business declined amid weak demand in the mid- to low-end segments, while the Networks Business posted an increase in revenue led by domestic demand for 5G installations and expansion in overseas businesses.
The Visual Display Business posted higher revenue and operating profit as sales of premium products, including Neo QLED and Super Big TVs, increased, while the Digital Appliances Business saw a profit decline because of cost increase due to deteriorated market conditions and as competition intensified.
The strength in the US dollar against the Korean won resulted in a positive impact of approximately KRW 0.5 trillion company-wide on operating profit compared to the previous quarter.
The recent change in Korean tax law which revised taxation on dividends received from subsidiaries led to a decline in the Company's corporate tax in the fourth quarter.
The one-time item due to the change in tax law was reflected in the quarter's financial statements and does not mean the Company received a corporate tax refund, nor is it related to the Company's actual tax payment.
In the first quarter, the semiconductor business will focus on actively addressing the demand for high-end products, such as DDR5, LPDDR5x, and 200 megapixel (MP) image sensors, amid a weak memory market and soft global IT demand. SDC plans to meet the demand for major customers' new products.
The Company plans to expand its leadership in the premium smartphone segment with the launch of Galaxy S23, while the Networks Business will focus on the domestic and overseas businesses, including North America. The Digital Appliances Business will aim to boost sales in the premium segment through new models, such as the BESPOKE Infinite Line.
For 2023, while the macroeconomic uncertainties are expected to persist, the Company anticipates demand to begin recovering in the second half. The semiconductor business will continue to reinforce market and technology leadership and expand the proportion of advanced nodes and products, such as DDR5, LPDDR5x, and Gate-All-Around (GAA) processes.
Earnings at SDC's mobile panel business is expected to be robust and the large panel business will focus on growing the QD-OLED business and improving profitability.
The Device eXperience (DX) Division plans to improve competitiveness by strengthening the premium product line-up, based on the Company's technology leadership. The Division also plans to expand the SmartThings ecosystem through differentiated technologies and partnerships to provide customized, hyper-connected user experiences.
The Networks Business is expected to maintain revenue growth by actively responding to new market opportunities, particularly in overseas businesses and by reinforcing technology leadership in 5G core chips and virtualized Radio Access Network (vRAN).
For the Digital Appliances Business, the Company will continue to provide hyper-connected user experiences based on SmartThings and enhance the competitiveness of premium products centered on BESPOKE models.
The Company's capital expenditures in 2022 reached a total of KRW 53.1 trillion, including KRW 47.9 trillion for semiconductors and KRW 2.5 trillion for displays. In the fourth quarter, capital expenditures were KRW 20.2 trillion, with KRW 18.8 trillion in semiconductors and KRW 0.4 trillion in displays. Funds for memory was concentrated on investing in P3 and P4 infrastructure, in preparation for mid- to long-term bit supply, and in EUV to enhance competitiveness. Foundry investments focused on expanding the production capacity of advanced nodes at Pyeongtaek as well as on the initial capacity for 3 nanometer (nm) and the infrastructure for the Taylor site.
Memory Earnings Declined in Q4; Semiconductor to Focus on High-end Product Demand in Q1
The semiconductor businesses posted KRW 20.07 trillion in consolidated revenue and KRW 0.27 trillion in operating profit in the fourth quarter.
Overall memory demand weakened as customers continued to adjust their inventories amid deepening uncertainties in the external environment. In addition to the base effect that Bit growth was below the market level last quarter, Samsung achieved Bit growth that exceeded the market by expanding sales, focusing on server applications. But, due to worsened consumer sentiment caused by deepening macro issues, the price fell further and with the effect of a meaningful amount of inventory valuation loss, the result decreased significantly compared to the previous quarter.
For DRAM, demand for server was limited as Set build declined because of economic uncertainty and customers' stance on inventory reduction remained. Mobile and PC demand was weak because of major customers' continued inventory adjustments and Set build reduction. But the Company expanded the portion of cutting-edge nodes by optimizing its product portfolio and actively responded to the demand for high-density products focusing on major data centers and server OEM customers. For NAND, demand for server SSD was somewhat stagnant because of customers' inventory adjustments.
Looking to the first quarter, customers' inventory adjustment stance has remained unchanged as economic uncertainties continue. Although demand recovery momentum in the short-term is concerned, Samsung will continue to minimize any adverse impacts by actively addressing the demand for high-end products such as LPDDR5x, with timely preparation for fast-growing DDR5 demand for server and PC.
In 2023, based on cost competitiveness, the Memory Business plans to expand the proportion of high-value-added products by addressing the demand for high-density server SSDs, responds to the high-density trend of smartphones and PC, and strengthens its market leadership.
The System LSI Business saw its earnings decline in the fourth quarter due to sluggish sales caused by inventory adjustments and a decrease in sales for major components.
However, the mobile SoC business achieved its highest-ever full-year revenue, and the Automotive SoC business has solidified its mid- to long-term growth base by supplying an initial sample on schedule for a European premium OEM and by signing an MOU for product development with an autonomous driving solution company in the US.
In the first quarter, impacts of sluggish demand and inventory adjustments are expected to continue for the time being. Samsung will strive to expand sales of low- to mid-priced volume zone SoCs and 200MP image sensors. And for automotive SoCs, the Company will try to sustain growth momentum through additional orders from European premium OEMs and for self-driving products.
For 2023, Samsung expects the impacts of the economic downturn to continue for the time being. However, analysis of smartphone purchase patterns suggests that demand will continue to polarize between premium and low-priced phones.
In order to respond to this divided market, for SoCs, the Company will expand sales in the volume zone while reinforcing the position of its products for flagship devices. Samsung will also ensure its major smartphone OEM customers successfully launch flagship models by smoothly supplying and expanding the line-up of its differentiated 200MP image sensors.
The Foundry Business once again set a new record in the fourth quarter for quarterly revenue thanks to increased contributions from advanced nodes for customers, an increased portion from HPC, and the continuous evolution of mature processes; and its full-year sales also reached an all-time high. However, its utilization rate started to decline due to inventory adjustments.
Regarding next-generation GAA processes, the 3nm first-generation process is currently being mass-produced with a stable yield, and, based on the first-gen mass-production experience, the development of the 3nm second-generation process is progressing rapidly. In addition, for the process for automotive and following the mass production of 5nm, the Company started developing 4nm.
In the first quarter, Samsung expects the utilization rate to fall and earnings to decline accordingly due to weak demand.
In 2023, demand may fall temporarily in the first half of the year due to the economic slowdown and inventory adjustments. However, the Company expects market demand to recover in the second half, centering on HPC and Auto sectors.
Samsung will strive to win new customers for the 3nm second-generation process, to focus on the development of the first-generation 2nm process, and continue to develop specialty and mature processes to diversify within applications such as Automotive/IoT.
Finally, given the rising importance of next-generation package technology in the HPC and mobile market, the Company has established an AdVanced Package (AVP) business team within the Device Solution Division to expand the advanced package business and bolster synergies between business units.
Mobile Display saw Solid Earnings; To Focus on OLED and QD-OLED in 2023
SDC posted KRW 9.31 trillion in consolidated revenue and KRW 1.82 trillion in operating profit for the fourth quarter.
The mobile display business achieved solid results by focusing on high-end smartphone products despite market demand continuing to contract. For the large display business, its losses lessened in the fourth quarter thanks to increased sales of TVs during the end-year peak season. In addition, the Company exhausted its LCD inventory, completing the switch to a full-fledged QD-OLED centered business.
Looking ahead to the first quarter, Samsung expects smartphone demand to decline year-on-year due to the economic slowdown in major regions. The Company will strive to maintain its solid earnings for the mobile display business by actively responding to launches of flagship products by major customers.
In the large display business, Samsung will secure additional demand and promote an early ramp-up with the introduction of a new lineup of ultra-large TVs and large-size monitors.
In 2023, the business environment is expected to remain challenging due to unstable market conditions and intensifying competition. For the mobile display business, the Company plans to strengthen its market dominance with technological superiority in the relatively solid high-end smartphone market. In addition, Samsung will capitalize on the accelerated transition to OLED by leveraging its cost competitiveness, which is the result of its preemptive investments.
In the large display business, the Company will continue to improve profitability by solidifying its sales base in the premium market, backed by stable yields.
MX to Expand Flagship Product Sales amid Persistent Macro Uncertainties
The MX and Networks businesses posted KRW 26.90 trillion in consolidated revenue and KRW 1.70 trillion in operating profit for the fourth quarter.
Market demand for smartphones remained weak in the fourth quarter, with the mass market contracting sharply due to continued inflation and geopolitical instability. The MX Business reported a decline in both sales and profit quarter-on-quarter, due to fading new-product effects of flagship models and a drop in smartphone sales on weak demand from the economic slowdown. The impact of the decline in sales of mass-market smartphones was greater than previously expected, while flagship sales held up well relative to market projections.
In the first quarter, a sequential decrease in market demand is expected across all smartphone segments, amid continuous macroeconomic uncertainties. The Company plans to expand flagship product sales with the successful launch of its new Galaxy S23 series, equipped with an enhanced camera and gaming functionalities, among others. Samsung will also continue to enhance its Galaxy ecosystem products, consisting of PCs, tablets and wearables, while maintaining its focus on effective resource management for solid profitability.
In 2023, the Company expects smartphone market demand to contract due to persistent macroeconomic conditions. Mass-market models are expected to be impacted the most, while consumer demand for premium smartphones and tablets is projected to stay relatively solid.
The MX Business plans to achieve strong sales and solid profitability by strengthening the competitiveness of its premium flagship products. For the mass-market segment, the Company plans to collaborate with mobile carriers on various sales programs, including those aimed at expanding the 5G smartphone user base. It also plans to improve the premium product experience for its tablets and wearables, through upgraded product features and multi-device experiences.
Visual Display to Continue Focus on Premium and Lifestyle Products
The Visual Display and Digital Appliances businesses recorded KRW 15.58 trillion in consolidated revenue and KRW 0.06 trillion in operating loss for the fourth quarter.
Market demand for TVs increased quarter-on-quarter on the back of year-end seasonality but contracted year-on-year due to the global economic slowdown. The Visual Display Business posted higher results than the previous quarter by meeting regional, peak-season demand and expanding sales of high-value-added products, including Neo QLED and Lifestyle models. However, results declined from a year earlier due to weaker consumer sentiment from rising interest rates and inflation.
Looking ahead to the first quarter, market demand is expected to decline both quarter-on-quarter and year-on-year because of seasonality and the ongoing impact of the global economic downturn. Samsung will focus on capturing demand for premium products, including our 2023 Neo QLED, and strengthen partnerships with major channel partners. The Company will also aim to secure profitability by optimizing operations and manage costs.
In 2023, overall TV demand is expected to remain stagnant as market uncertainties are projected to persist. Based on the demand for premium products, Samsung will focus on the ultra-large-screen market with 98″ Neo QLED and continue innovations in premium products by releasing MicroLED models in various sizes as well as providing more options for OLED TVs and gaming monitors.