Malaysia has made an important leap in 2022 with 5G services finally rolling out to consumers. While it is still in its infancy stage in many areas, large parts of Klang Valley and major towns already have access to the service. Known to be a major upgrade over 4G, 5G can offer speeds up to 1TB, greatly impacting daily usage especially in content consumption and gaming.
To add, telecommunications companies are further encouraging the switch over to 5G by offering free upgrades to 5G SIM cards at no cost. As the service becomes more accessible to more smartphone users, it is important for the rest of the ecosystem to keep up as well.
Considering that smartphone users typically purchase new devices every three to four years, a phone from 2019 will likely not come with 5G capabilities. That said, it can be an expensive endeavor to purchase a flagship device just to experience 5G. That's why smartphone manufacturers are answering the call by offering 5G connectivity in some of their more affordable phone models, making it more accessible and lowering the barrier of entry for many aspiring 5G users.
As for the benefits users can already enjoy in 5G-covered areas, the more immediate use-cases include ultra-fast network speeds resulting in much faster download and upload speeds and low latency. This applies greatly to content consumption, especially with regards to higher resolution content, in 1440p or 4K as well as downloading large data files such as games.
With ultra-fast and stable network connection, consumers' smartphone gaming experience will also be further enhanced. This is because a 5G connection will help provide a stable and low-latency gaming experience thanks to 5G network capabilities. Gaming on 5G will also give gamers an edge on competitive titles such as Mobile Legends and PUBG Mobile where reaction times can make the difference between winning and losing.
As the benefits of 5G are significant and apparent, consumers looking for an upgrade from their older 4G devices but don't want to break the bank, look no further than the OPPO A78 5G, with an affordable pricing of RM1,099, it's OPPO best value 5G smartphone with features such as 8GB+8GB RAM Expansion with 128GB ROM,33W SuperVOOC Charging with 5,000mAh battery capacity and more.
At the moment, those interested to get their hands on the OPPO A78 5G can do so for free now via the following telco deals: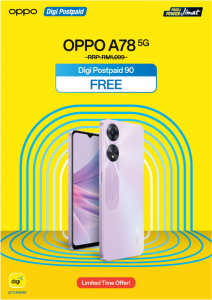 1) Digi Postpaid 90
– Get OPPO A78 5G for free via a 24-month contract with Digi Postpaid 90. Offer valid till 15th March.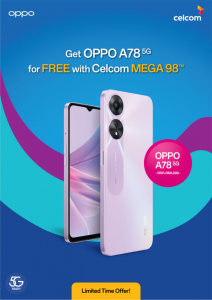 2) Celcom MEGA™ 98
– Get the OPPO A78 5G for free via a 24-month contract with Celcom MEGA™ 98. Offer valid till end of the year or while stock lasts.
As owning a 5G device has never been more accessible, be sure to get your OPPO A78 5G soon while these offers last, and enjoy the world of 5G today.